About Us
V-Nam Vietnamese Restaurant offers a wide selection of delicious Vietnamese dishes for you to enjoy. Whether you're craving your favourite dish, or want to try something new, V-Nam Vietnamese Restaurant is always ready to please!
If you're looking for something extra tasty, try the grilled beef short ribs with vermicelli, tofu salad rolls, grilled pork chop and egg, prawn tempura, or deep-fried wontons. We also offer an assortment of combinations that will be sure to satisfy. Try Combo A which is served with one shrimp salad roll, one spring roll, and two pork brochettes, served with rice or vermicelli.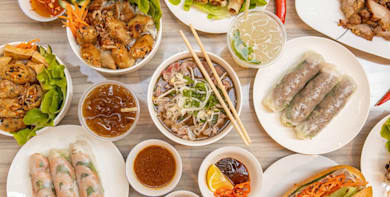 Reviews
Katalina
"Yummmuchhhhh….delishus AND nootrishuss!!"
2022-09-17
Frances
"expensive but good"
2022-09-09
Kent
"I didn't care about presentation or carrots. Was nothing wrong with it. tasted good."
2022-09-06
Kent
"I will want that one again. they followed instructions from a diet. I couldn't do that all the time, but every once in a while would be great."
2022-09-05
Menu
Contact Us
Find Us
175 3rd Street East, North Vancouver, BC, Canada, North Vancouver, V7L 1E5
Opening Hours
Monday
10:00 AM - 12:00 AM
Tuesday
10:00 AM - 12:00 AM
Wednesday
10:00 AM - 12:00 AM
Thursday
10:00 AM - 12:00 AM
Friday
10:00 AM - 12:00 AM
Saturday
10:00 AM - 12:00 AM
Sunday
10:00 AM - 12:00 AM
Please note, delivery times may vary.
We deliver to
V6G, V7G, V7H, V7J, V7K, V7L, V7M, V7N, V7P, V7R, V7S, V7T, V7V